I have managed to gain loads of books that are due out in either September or October this year, so to help encourage me to read them all I have decided to sign up for the Review Copy Cleanup- a read-a-thon hosted by
Books, Biscuits and Tea
, and
Nyx Book Reviews
in the hope that a) I'll be motivated to read as many of these books as possible and b) to network and chat with other book bloggers- find new book blogs to follow and new books to lust after.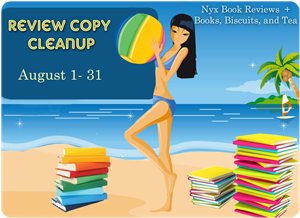 The read-a-thon runs throughout the whole of August, and my goal over this time is to try and finish all these books-
Plus hopefully one more (but I have so many that I can't pick between them- and I usually choose my next book based on my mood).
I won't post again until the end of August, but we will all keep up with our progress on twitter, hashtag #RCCleanup
Let the read-a-thon begin!